Curbside Collection in Altoona, PA
At Dutch's Hauling, we can haul just about anything you're looking to get rid of! From household appliances and furniture to yard debris, to basement and garage contents, to routine garbage and more—we're ready to take it away. Contact us for weekly trash pickup, roll-off dumpster rental, debris pickup and cleanup services for residential and commercial properties.
Now You See It, Now You Don't!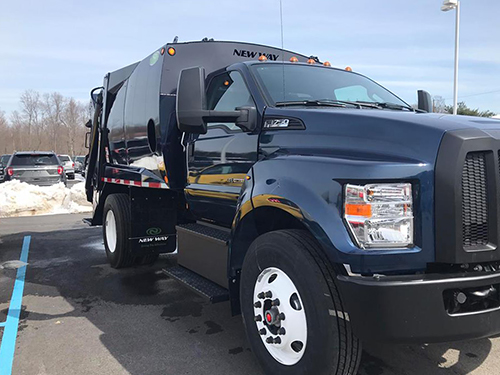 Nobody wants trash bags overflowing from their dumpster or an old mattress sitting on their curb for days and weeks at a time. Instead of letting your trash and debris lay around, call Dutch's Hauling to ensure it's removed quickly and disposed of properly. We'll gladly haul away anything you're throwing out, so you can the save time, money and frustration that comes with hauling it to the landfill or letting it sit idly. We even offer weekly curbside collection to help manage your ongoing garbage needs!
In addition to garbage collection, we're also the place to call for roll-off service in Altoona, PA. If you're doing some renovating, cleaning out your home or business, or managing waste on a job site, our roll-off dumpsters are the perfect solution. You pile in the junk, we'll take it away when you're done—it's as simple as that! We also offer cleanup services to help you minimize your workload, and we frequently partner with construction companies to keep worksites clean. From regular garbage pickup to haulage for larger debris and dumpster collection, count on Dutch's Hauling to do it all. We'll help keep your premises clean!

In addition to our weekly trash removal services,
we also rent roll-off dumpsters for your convenience
.

Our business proudly maintains an A-plus rating with the Better Business Bureau (BBB).

We work with both residential and commercial customers for quick and reliable trash and debris pickup.

We can haul away oversized items and items not safe for the trash, such as appliances or mattresses. We're pleased to offer free estimates on any of our services, so you know exactly how much you're paying upfront.
Take Out the Trash
Don't let garbage and debris pile up on your property. Let Dutch's Hauling provide you with reliable trash removal services that ensure your curb stays clean and pristine. Contact us today!
PROVIDING GARBAGE CLEANUP TO ALTOONA, PA AND THE SURROUNDING COMMUNITIES OF:
Blair County, PA
Hollidaysburg, PA
Duncansville, PA
Tipton, PA
IN ADDITION TO CONSTRUCTION SITE CLEANUP TO:
Cambria County, PA
Williamsburg, PA
Bellwood, PA
Newry, PA